News

Since its launching in 1990, "GVG" has acquired a vast experience in dealing with international broadcasters (European, Asian, Middle Eastern, African), by serving the foreign networks with multiple types of television productions.
We are a "one stop shop" from organizing in pre-production, shooting and editing, to managing the workflow of our correspondent, until it goes "On Air".
We are covering news stories in the USA on a daily basis, at any given time we have producers and camera crew in New York and can cover any news event on short notice. We are specialized in major news events around the world.
GVG can provide you with LiveU feed uplink services, with or without buying space segment, from any point in the US and transmit your report or raw footage to any point in the world.

Our Manhattan (New York) office has access to immediate news updates from various sources.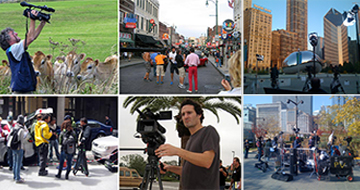 © 2017 GLOBAL VISION GROUP USA - All rights reserved